This optional module is fully integrated with the logged data for the scheduling and prioritising of Maintenance Tasks. This means that when Maintenance Tasks are due against the logged data the system will collate generating a checklist.
Tasks
Task definitions for Preventative Maintenance and are usually assigned to each Machine type. Each Task has a Name, Description, how it is measured, (Production Units, Run Time or Elapsed Time), Duration and Effective/Until dates.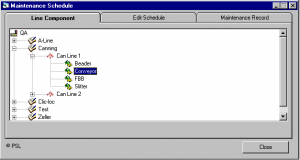 Schedule
To the machine level, it's possible to define the maintenance schedule. This consists of actual work required by a given date or after a certain number of hours. Its then possible to view, sign-off and handle recurring maintenance tasks.
Reports
The Preventative Maintenance module drives both proactive and retrospective reporting, to incorporate:
Due maintenance
Overdue maintenance
Maintenance history, including costs
Job sheets