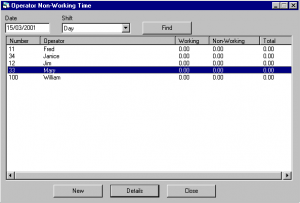 This optional module is an extension of the Logsheet and allows for all staff on relevant shifts or processes to be input along with their Reasons for Working hours or Non-Working hours.
Each machine or product process can be assigned a standard manning hours figure and the system will calculate the Labour Hour Efficiency percentage actually achieved.
In doing so, it's possible to record, and report on, non-working hours for an individual, or shift, without having to open a Logsheet.